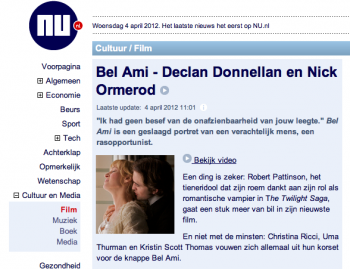 Una cosa es cierta: Robert Pattinson, el ídolo de las adolescentes que se hizo famoso por su papel de vampiro romántico de la saga de Crepúsculo, está recibiendo mucha más "acción" en su última película.
Un buen casting
Declan Donnellan y Nick Ormerod cuentan la historia [de Bel Ami] de una manera sólida y tienen un gran elenco a su disposición. Ellos no están usando toda su capacidad, son demasiado explícitos y mucha música. Pero no hay nada realmente malo con lo que hicieron.
Y Pattinson es un buen casting para el papel de Duroy. Él es el tipo perfecto, eso ya lo sabíamos, pero en Bel Ami prueba que él es realmente capaz de actuar. Atractivo, cauteloso, con ansia de poder y resentimiento, todo ello combinado en un solo personaje: Pattinson hace en Bel Ami un personage intrigante.
Bel Ami se estrenará en los Países Bajos el día 5 de Abril.
One thing is certain: Robert Pattinson, the teen idol that got famous by his part as romantic vampire in the Twilight Saga, is getting a lot more 'action' in his latest movie.

Declan Donnellan and Nick Ormerod tell the story [of Bel Ami] in a solid way and have a great cast at their disposal. They're not using it all to their full capacity, are somewhat too explanatory and have a bit much music, but for the rest there's nothing really wrong with what they did.

And Pattinson is a good casting for the part of Duroy. He's a pretty guy, we knew that already, but in Bel Ami he proves that he's really capable of acting. Charme, sneaky, lust for power and resentment, all combined in one persona: Pattinson makes Bel Ami to be an intriguing presonage.
Bel Ami will

debuts

in the Netherlands 5 april.