Bueno Twi-hards, tenemos una gran noticia: Fue revelado oficialmente que
The Twilight Saga: Breaking Dawn – Parte 1 estará disponible en DVD y Blu-ray, el sábado, 11 de febrero y tenemos los detalles de los bonus para las fans!.
Aseguran que el DVD Edicion especial de dos discos y la edición especial Blu-ray contienen "El video de la boda de Bella y Edward", dos diferentes avances rápidos con características de tus escenas favoritas de Edward y Jacob, el Featurette "El destino de Jacob", audio comentario con el director Bill Condon, y el "Making of" un documental de 6 partes que te lleva detrás de las escenas.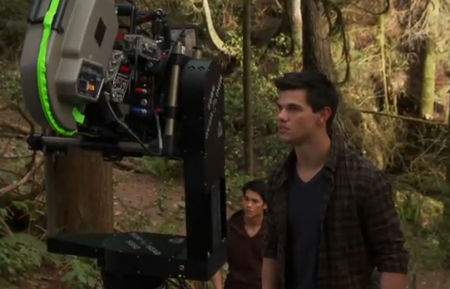 Clic en la imagen de Jacob para ver el vídeo: Behind the Scenes!
El disco sale justo a tiempo para el Día de San Valentín, y el vicepresidente ejecutivo de Summit Entertainment de Home Entertainment Marketing de TJ Moffett dice: "Pensamos que a los fans les encantaría pasar el Día de San Valentín viendo la boda de Bella y Edward y luna de miel. En realidad es la más romántica de todas las películas de la saga."